A memory quilt, a remembrance quilt, a signature quilt - three labels for one apparent item. The goal of these quilts in the mid-1800's was to remember those who have perhaps left the area, perhaps have died, or perhaps remembering a circle of friends when one left the area. In that time period there was the constant push westward and we were very mobile. We are not sure how the names on our quilt are linked together. The quilt is obviously an effort to remember the folks whose names appear on it. We have names listed from Scipio; West Dryden; Michigan; Henrietta ; and Pittsford. We have not done enough research to determine if some may have moved on.
Our quilt has all of the names written with the same hand. Some signature quilts were made from scraps of cloth signed by individuals with maybe their shirt or dress material given to the quilt creator(s) so the quilt block would be made completely of their fabrics. That does not seem to be the case here. Sometimes signature quilts were used as fundraisers where someone would pay to have their name on the quilt (or to sign the quilt) and then the quilt would be raffled off. Frequently the winner would donate the quilt back to the organization to raffle again.
Our quilt was donated to the Macedon Historical Society by Mrs. Catherine Maloney MacGuire. She was a Macedon native and grew up on Leno Rd. She was the 6th child of John and Elizabeth Howe Maloney born in August of 1895. Her father was born in Canada and her mother in New York State. Her nickname was "Kitty". How did she become the keeper of the quilt? Was she attached to these names on the quilt? We do not know. So far we have not found any links.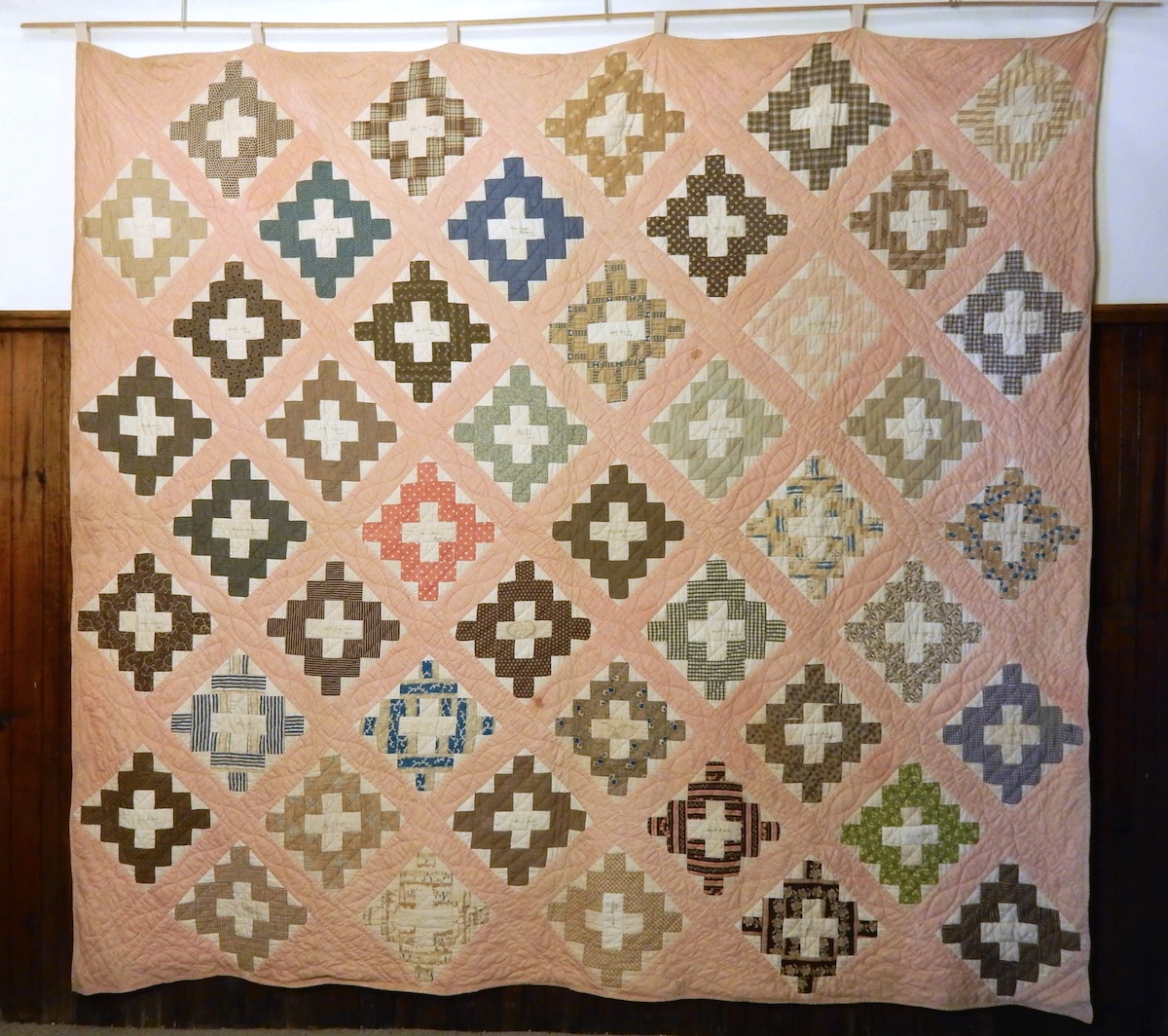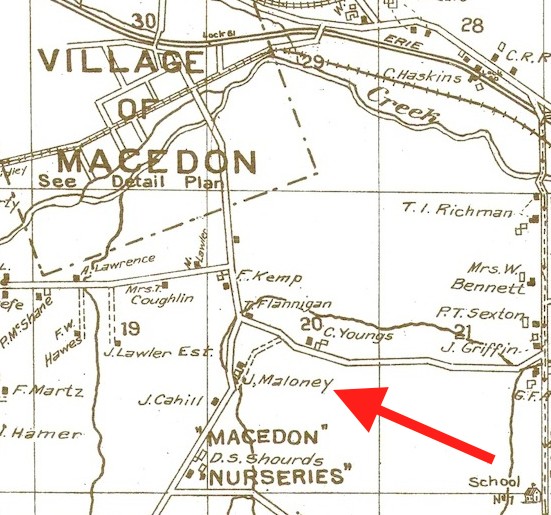 Her husband was Francis J. "Mickey" McGuire - 5th child of Patrick and Ellen Hickey McGuire. For 47 years he owned and operated "Mickey's" in Palmyra. He passed away in 1971 and Kitty passed away in 1991. Both are buried in St. Annes Roman Catholic Cemetery in Palmyra.
As for the names on the quilt, some are local names. We had Carpenters in the Penfield area, Dotys just south of Macedon village, Bakers just south of Macedon Village, Chapman and Weeks in the Town of Macedon, Fishers in Macedon village, Rogers in Macedon. The names on the quilt do have local connections. Sarah Mosher could have been a signer of the Declaration of Sentiments - but there are at least two other Sara Moshers in New York State at that time period. Anna Chapman's name is put in vertically rather than horizontally. Does that mean that she is the creator of the quilt or does that mean that only God is perfect and quilts should honor that? We have many unanswered questions.
In 2017, Josh Herrmann, as an Eagle Scout project made a glass enclosure to preserve the quilt.  We are very grateful for his dedicated work towards this project
If you should like to visit the quilt at the Academy, please contact us through the website or the Macedon Historian's Office (historian@macedontown.net). The Historical Society has Open Houses June-September from 2-4 on the last Sunday of the month. Also we are available by appointment. If you would like to research the names or have more information on this quilt please contact us.
Click any image to enlarge and view the full caption and a close-up of the hand writing on that segment of the quilt.